Mr Palmer in India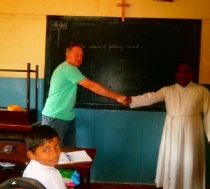 Read about Mr Palmer's visit to schools in India on our new blog.
Please look under the Pupils tab above.
If your children have any questions for Mr. Palmer about India or the school, please read our blog rules page first and submit your questions as comments on the blog posts below.
All comments are moderated first, but they should appear on the blog soon after you submit them. Mr. Palmer will do his best to answer the questions live from India!