'Jimmy & Jack Legacy' Half Time Match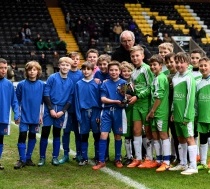 Our Burton Joyce team played at Notts County during half time.
'Jimmy & Jack Legacy'- Burton Joyce football team played at half time during the league game against Orient on Saturday February 20th. Jimmy Sirrel was a long term resident of Burton Joyce and we are proud to be chosen for this charity match. The score was 0-0. The team played fantastic and a good day was had by all.